We print on a range of quality latex and foil balloons including Belbal, Qualatex, Anagram, CTI & Betallic. We stock a comprehensive range of latex balloons and most foils are stocked in 18″ rounds and hearts, together with the more popular colours in stars and 36″ jumbo foils but, any that we don't have in stock can be ordered within 24 hours.
The colours depicted here are for guidance only; the actual balloon colours may differ slightly.
Latex Balloon Colours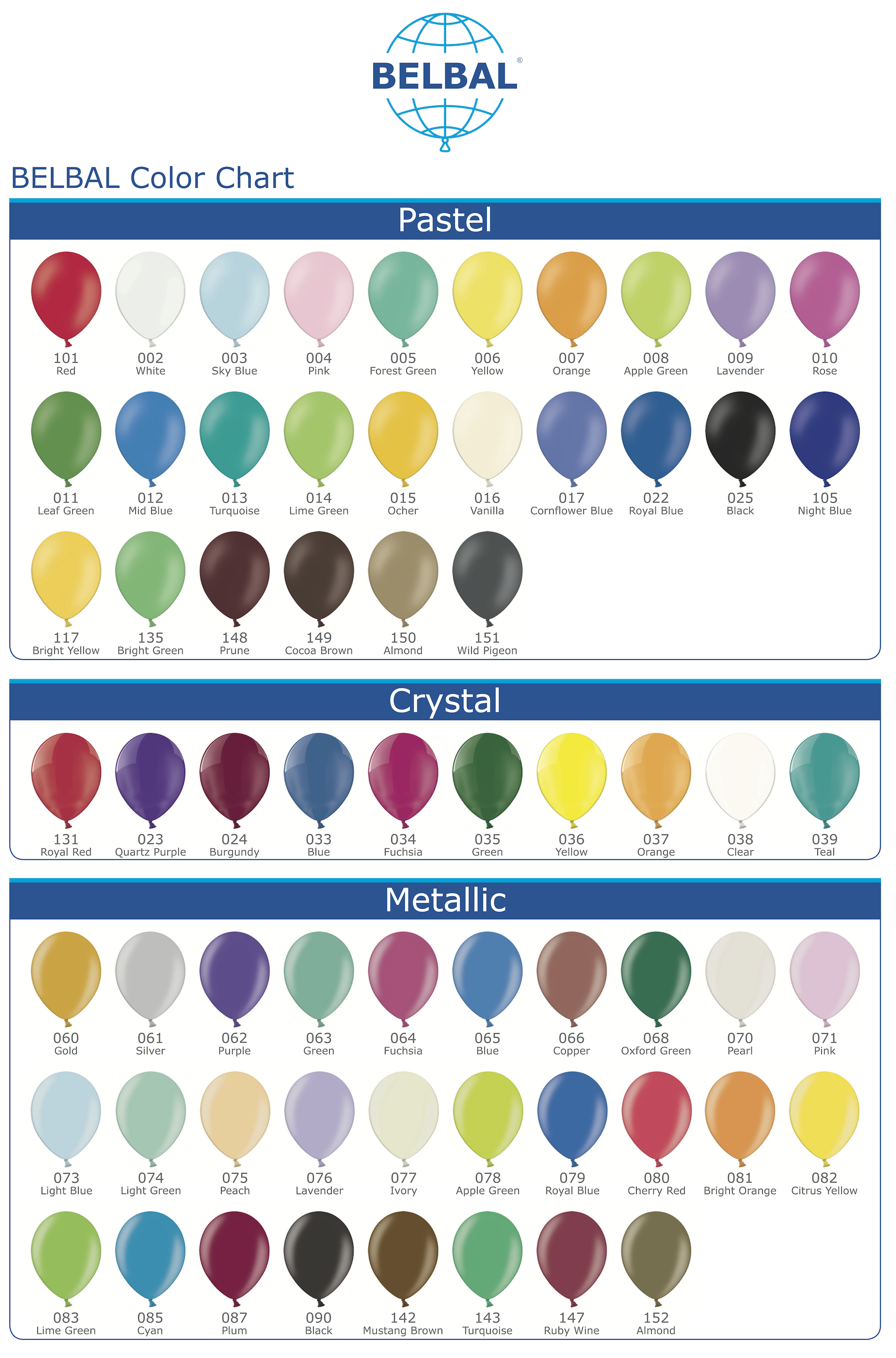 Foil Balloon Colours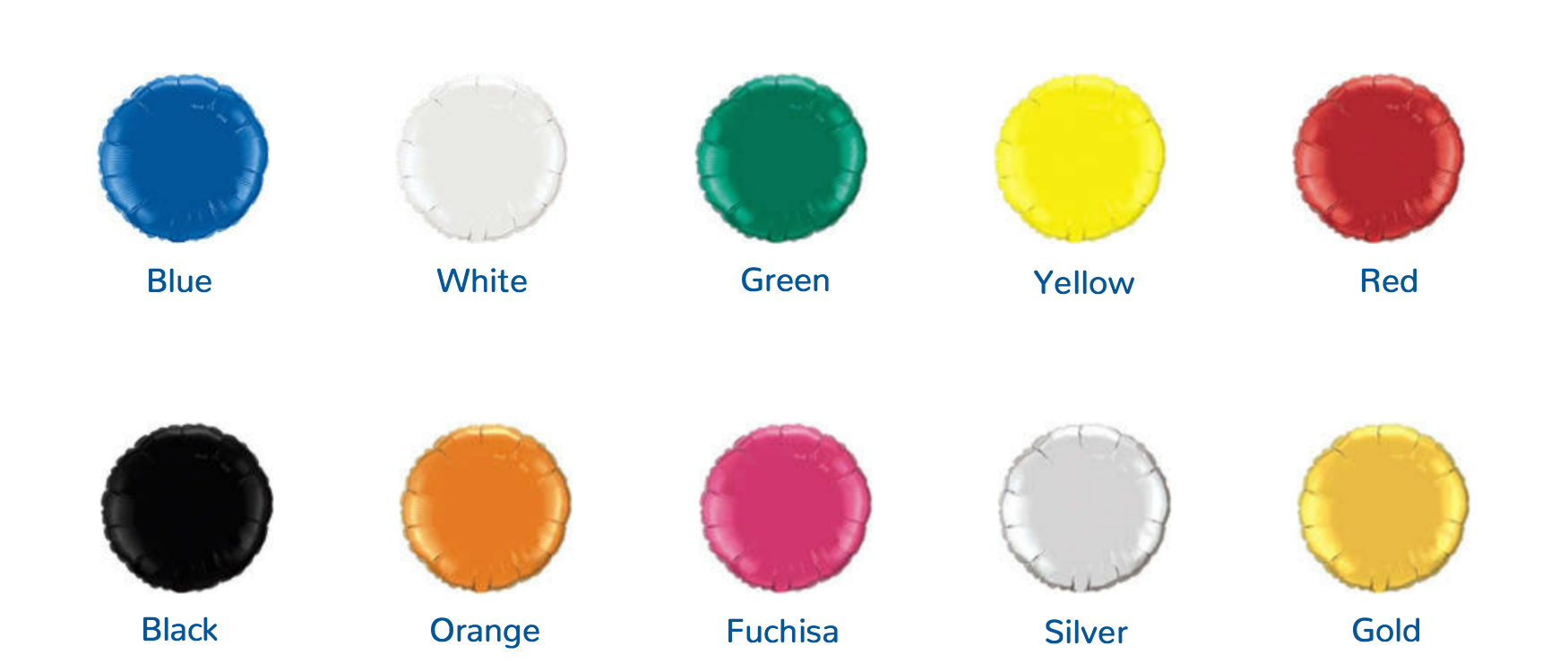 Many more colours are available!
Not all colours are available in all shapes and/or all sizes – it gets complex so the easiest thing is for you to tell us what you'd like and we'll tell you if it's possible!

Ruby Red
Available in
Round: 4″, 9″, 18″, & 36″
Heart: 4″, 9″, 18″, & 36″
Star: 4″, 9″, 20″, & 36″
Square: 9″

Sapphire Blue
Available in
Round: 4″, 9″, 18″, & 36″
Heart: 4″, 9″, & 18″
Star: 4″, 9″, 20″, & 36″
Square: 9″
Crescent Moon: 35″

Onyx Black
Available in
Round: 4″, 9″, & 18″
Star: 4″, 9″, 20″, & 36″
Square: 9″

Quartz Purple
Available in
Round: 4″, 9″, & 18″
Heart: 4″, 9″, & 18″
Star: 4″, 9″, 20″, & 36″
Square: 9″

Emerald Green
Available in
Round: 4″, 9″, 18″, & 36″
Heart: 4″, 9″, & 18″
Star: 4″, 9″, 20″, & 36″
Holly Leaf: 9″
Square: 9″

Citrine Yellow
Available in
Round: 4″, 9″, 18″, & 36″
Heart: 4″, 9″, 18″, & 36″
Star: 4″, 9″, 20″, & 36″
Square: 9″
Crescent Moon: 9″ & 35″

Onyx Black
Available in
Round: 4″, 9″, & 18″
Star: 4″, 9″, 20″, & 36″
Square: 9″

Orange
Available in
Round: 18″
Heart: 18″
Star: 20″
Square: 9″

Teal
Available in
Round: 18″
Heart: 18″
Star: 20″

Magenta
Available in
Round: 4″, 9″, & 18″
Heart: 4″, 9″, 18″, & 36″
Star: 4″, 9″, & 20″
Square: 9″
Crescent Moon: 35″

Rose
Available in
Round: 18″
Heart: 18″
Star: 20″

Pale Blue
Available in
Round: 18″
Heart: 18″

Spring Lilac
Available in
Available in
Round: 18″
Heart: 18″

Yellow
Available in
Round: 18″
Heart: 18″
Star: 20″

White
Available in
Round: 4″, 9″, & 18″
Heart: 4″, 9″, 18″, & 36″
Star: 4″, 9″, 20″, & 36″
Square: 9″
Wintergreen
Available in
Round: 18″
Heart: 18″

Periwinkle
Available in
Available in
Round: 18″

Lime Green
Available in
Round: 4″, 9″, & 18″
Star: 4″, 9″, & 20″
Crescent Moon: 35″

Burgundy
Available in
Round: 18″

Dark Blue
Available in
Round: 18″
Star: 20″

Metallic Gold
Available in
Available in
Round: 4″, 9″, 18″, & 36″
Heart: 4″, 9″, 18″, & 36″
Star: 4″, 9″, 20″, & 36″
Square: 9″
Crescent Moon: 9″ & 35″

Silver
Available in
Round: 4″, 9″, 18″, & 36″
Heart: 4″, 9″, 18″, & 36″
Star: 4″, 9″, 20″, & 36″
Square: 9″
Crescent Moon: 9″ & 35″

Pearl Light Blue
Available in
Heart: 9″, 18″, & 36″
Crescent Moon: 35″

Pearl Ivory
Available in
Heart: 9″, 18″, & 36″
Pearl Lavender
Available in
Available in
Heart: 9″, 18″, & 36″

Pink Pearl
Available in
Heart: 9″, 18″, & 36″
Crescent Moon: 35″